Logan Sella
Updated: Apr 23, 2020
Welcome back to the QB Breakdown blog! The NFL Draft is (thankfully) right around the corner, and interest, especially around the quarterbacks, is heating up. I have now covered three of my personal top five quarterbacks in this year's class, with features on Jalen Hurts, Jordan Love and Justin Herbert available for your viewing pleasure here, here and here.
Time for part four. We are getting in to the crème de la crème now, with only the top two prospects left. This week we will go with a quarterback who just finished his college career with perhaps the best statistical campaign that any college player has ever had, a Heisman trophy and a College Football Playoff national championship, and is slated to be the first overall pick, as the odds-on favorite by a wide margin.
Joe Burrow, SR. LSU. 6'3", 221 lbs.
Burrow finished his video-game like final college season on Bourbon Street in New Orleans a champion, further cementing his status as a legend in that area with a 42-25 win over Clemson to finish off only the second 15-0 season in college history. Burrow was a late bloomer, though, redshirting and then sitting two years at Ohio State before transferring to LSU to complete his final two years of eligibility. Burrow had a solid but unspectacular 2018 season, leading the Tigers to a 10-3 record and a win in the Fiesta Bowl. Everything turned to gold in 2019, though, when head coach Ed Orgeron brought in Joe Brady, a former offensive intern for the New Orleans Saints, to be the offensive coordinator for LSU, pivoting them from a traditional, ground-and-pound style to a wide-open modern passing game, finally unleashing the gauntlet of offensive talent LSU has been famous for (Odell Beckham, Jarvis Landry, Leonard Fournette, anybody?). This led to a meteoric rise up draft boards for Burrow, who was considered a 3rd-to-4h round pick by many, to now the presumptive first pick in the draft, being compared by some to the lofty company of Tom Brady and Lebron James.
By the Numbers
Burrow lead the Bayou Bengals to what might have been the greatest season in college football history, taking down 7 different teams that were ranked in the AP Top 10 at the time of their contests, as well as 5 that finished in the top 8 of the final poll (Clemson, Georgia, Florida, Oklahoma, Alabama). According to The Athletic, LSU was the first team ever to beat the top four ranked teams at the beginning of the season (Alabama, Georgia, Oklahoma, Clemson), and did it by an average of 21 points.
Burrow obviously had no small part in the Tigers' success, leading the nation's highest scoring offense to 47.2 points per game, the highest point total in the history of college football, according to TeamRankings. From both a team and individual standpoint, Burrow and the Tigers pretty much wrote the record book for 2019, finishing first in scoring offense and total offense. Burrow finished first among all FBS passers in (get ready, this is quite the list):completion percentage, passing yards, yards per attempt, adjusted yards per attempt (factoring in touchdowns and interceptions), touchdowns, passer efficiency rating, total yards, yards per play, and touchdowns responsible for, and finished second in total pass completions, via College Football Reference. Quite simply, there has never been a better statistical season from a college passer than the one Burrow had in 2019.
Given the grand nature of Burrow's final year in Baton Rouge and the coming-out-party nature of it all, seemingly getting better every week, it can be easy to forget that Burrow had another full season beforehand as the LSU signal caller, preceded by two years of mop-up duty at Ohio State as a backup quarterback. While 2019 was a record-breaker for Burrow, 2018 was mostly pedestrian, marking him in the middle of the pack in most categories in the SEC, forget FBS: 7th in passing yards, 8th in yards per attempt, 10th in touchdowns, 5th in yards, and 6th in yards per play, again via College Football Reference.
To say that Burrow came out of nowhere would be a little bit of hyperbole, as he was an average SEC quarterback in his junior year, but anyone that had any idea of his unparalleled rise could have been a very rich man, as his Heisman odds before the season reached as high as 200/1.
For NFL evaluators, the question becomes, which is it? Is Burrow a middling quarterback in a run and defense-first conference, or is he the most prolific quarterback prospect in the history of the game? Undoubtedly, Burrow's career is a tale of two seasons, both in team success (LSU was 10-3 in 2018) and statistically. You can see the side-by-side of his classic passing numbers from 2018 and 2019 here, via College Football Reference:
Albeit in two more games, Burrow came within 117 yards of doubling his passing output from 2018 in the last season, while throwing one more interception versus 46(!!) more touchdowns.
So what changed? Was it really just as simple as a change in coordinator and a more wide-open offense? To some extent, yes, as the top two receiving threats from the 2019 team, Justin Jefferson and Ja'marr Chase, as well as the leading running back, Clyde Edwards-Helaire, were all present on the 2018 team, as well as four returning starters on the offensive line from 2018. But to say that Joe Brady, offensive coordinator extraordinaire, was the only new piece would be at least a little remiss, as Edwards-Helaire was a kick return specialist in 2018, while Chase mostly only saw the field in three-receiver sets. Future-pro tight end Thaddeus Moss suffered a broken toe injury before the season in 2018, as well, before making an impact to the tune of 570 yards last season.
No matter what way you slice it, though, Burrow's supporting cast, be it in 2018 or 2019, was full of absurd talent. The aforementioned offensive line that protected Burrow took home the Joe Moore Award for the nation's most outstanding OL unit in 2019, and Chase was named a first-team AP All-American. It doesn't stop there though, as Edwards-Helaire was named first-team SEC, offensive guard Adrian Magee and tackle Damien Lewis were second-team SEC, along with All-American corner Derek Stingley, Jr., first-team SEC safety Grant Delpit and linebacker K'Lavon Chaisson. LSU was loaded on both sides of the ball last season, and will be loaded in guys playing on Sundays in the next few years, with up to 14 prospects with draftable grades according to some boards. Burrow was certainly spectacular, but he was not without great help, as he was surrounded by tremendous talent throughout his years as a college starter.
According to most, Burrow was ranked as a third-or-fourth round pick following his junior year. Someone who did fit a similar statistical profile from his 2018 season was an actual fourth round pick from that year, future (projected) New England Patriot QB Jarrett Stidham. Here is the side-by-side from the 2 SEC passers from 2018, with Burrow at the bottom:
There has never been the kind of meteoric rise from 'middle of the pack SEC quarterback' to 'Heisman winner' in one year, but there have been a number of college quarterbacks of recent memory that have jumped on to the scene. Most recently Kyler Murray and Dwayne Haskins have started for one year, putting up prolific seasons and then turning pro, but it is rare to find a quarterback that had a good but not great career before going nuclear in his final season. Here is a (somewhat) comparable spike from junior to senior season, both resulting in Heisman trophies:
The above two seasons belong to one Robert Griffin III. While their games were not all that similar, you can see a similar spike in yards and adjusted yards per attempt, passer rating and completion percentage.
While it may be a little bit of a reach, it just goes to show that Burrow was stratospheric in his production, but that one-year phenoms can mean buyer beware, especially after being middling earlier on in his career. In fact, the last LSU quarterback who blew scouts away with a prolific senior season after being average to slightly-above average was…JaMarcus Russell. There is no such thing as a sure thing drafting a quarterback, no matter their production.
Defenders of Burrow will point to his growth at the end of his junior season, as he turned in his four of his best five outings according to passer rating and completion percentage to end the year, and was lights-out to finish the year against UCF for 4 touchdowns and 394 yards. It could be that he was just rounding in to form, as he did not get to have any spring practice with the Tigers (due to his transferring) and had not previously played outside of mop-up duty in two years. Nobody, even some of the best passers of all-time, college or pro, reached the heights that Burrow did at LSU in 2019.
The Truth is in the Tape
Obviously, as is wise, I am sure most NFL talent evaluators will watch Burrow's final season, as regardless of statistical production, performance can improve over the course of a college career, and most recent film is indicative of the final product that teams are getting. I was no different, focusing a majority of my attention to his senior year, as there were a number of games against high-profile opponents as well. I did look at his junior season, though, which was not without notable highs and lows. Here's what stood out:
Burrow once referred to himself as an "NFL quarterback in college" on a podcast due to the time that he could dedicate to football playing as a graduate in his final season, and it seems like a very apt description of his play. I found myself almost taking for granted seven-and-eight-yard gains from the LSU offense because they were so routine. Burrow always looked like he had the answers to the test, deftly countering blitzes by calmly hitting a hot receiver in an open area and consistently punishing zone defenses by hitting them in soft spots. Negative plays were few and far between with Burrow at the helm, a huge credit to his command of the offense, always being able to at least improvise and create space to throw the ball away or get a few yards. He lapped the field with a 141.1 passer rating vs. pressure, according to Pro Football Focus, and his ability to see the field and get the ball out of his hands is what I think is his greatest strength.
It was hard to find holes in Burrow's senior season on tape, honestly. 75% of his throws were completions, and his offense put up an average of over 47 points a game. Burrow and LSU were constantly marching up and down the field on opponents, and he routinely picked apart some of the best defenses in the SEC, by far the best conference in college football. There was a Greatest Show on Turf quality to the LSU offense, as they were oozing with talent in all positions, and Burrow as the triggerman filled every chamber for them. I can see how some scouts have been swept off their feet. Here is a quick look at some of the big-league accuracy Burrow showcased regularly as well:
Burrow was a killer in the red zone as well. This is NFL-ready here. You can see him look all the way right before coming back left and ripping this ball. Big-time.
Scared by Burrow and LSU's gauntlet of receivers, most teams opted to blitz scarcely and play lots of coverage overtop and rush the passer with only 3 or 4 defenders. Most times, this was zone defense rather than man-to-man. Burrow shined here by not forcing the ball into coverage, and is exceptional in RPO or run-pass-option plays inside the numbers. He can really thread the ball into tight windows on slants and in-breaking routes. Here is a great example against Florida:
And another against Oklahoma:
Another thing that I liked from Burrow's game was his willingness to step up into the pocket and then buy time going laterally. He showed both the instincts to navigate traffic when it was there (which wasn't often, as the LSU offensive line was as good as advertised) and the athleticism to get away from it, and he had more than a couple head-scratching escapes. Watch this Houdini job against Ole Miss:
He also made a habit of turning his shoulders so that they were parallel with the line of scrimmage when he moved up in the pocket. Some might say this is a negative as they would rather see him slide up with a passing posture rather than 'run' up, but, as shown on the play above, Burrow was still deadly accurate this way as well:
I thought that he was maybe just a tad too quick to scramble on some plays, as oftentimes he had lots of time with only 3 or 4 rushers, but that he made up for it by almost always keeping his eyes downfield, and was lethal at throwing big completions down the field on broken plays.
I thought that Burrow's arm strength was adequate, but not eye-popping. He didn't have the incredible velocity that Justin Herbert had, but like I said last week, they share the trait of throwing a really tight spiral. The ball doesn't necessarily explode out of his hand, but it 'finishes' to its target well. Here is a good example from a game against Auburn:
He did leave a little bit to be desired on some of the big balls down the sideline, though, as when he really had to stretch it out, he didn't quite have the oomph to get it there, underthrowing receivers by just a tad, making for incompletions or difficult catches. Chase bails him out here with this catch against Texas:
You can see the separation downfield here, but Burrow turns this into a makeable play for the DB with an underthrow: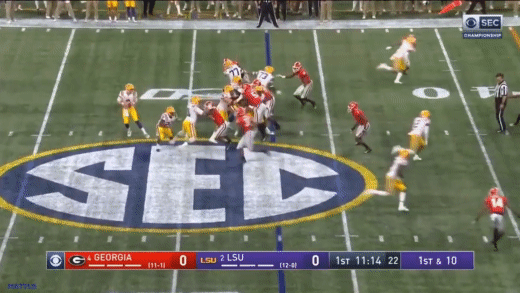 What he lacks in elite arm strength on deep throws, he makes up for with a velvety touch. He specialized at dropping balls in over the shoulder of his receivers on over-the-top routes down the sidelines, and Burrow to Jefferson and Burrow to Chase on long balls was absolutely devastating, as Burrow had 47 completions of 20 yards or more last season, 20 more than the second-highest draft-eligible passer (Justin Herbert), via Pro Football Focus. Watch and enjoy a few beauties:
To say Burrow was a totally different player in 2018 wouldn't be totally true, as he did show some plays with good accuracy and mobility, but he would often hold the ball way longer than he should have, opening himself up to a lot of sacks (Burrow was sacked the same number of times in 2018 as 2019 (35) on 148 fewer dropbacks, via Sports Information Solutions) and often trying to put the ball into supremely tight windows.
Some of it, maybe even a lot of it, was due to scheme, as well. The most telling stat is this: In 2018, LSU running backs caught 31 passes for 229 yards, while in 2019, they brought in 79 balls for 629 yards. The 2018 Tiger offense was an old-school, congested brand of football that only used running backs in the passing game for play-action, which was a bad fit for Burrow, as he was really bad under center (he was almost exclusively in the shotgun in 2019) or for extra protection. This just didn't work well for Burrow, as the extra blocker only brought extra defenders, giving him less room to move in the pocket and giving him one less option to throw the ball to, both of which were critical parts of his success in 2019.
NFL Projection & Fit
Burrow is the rare player that we can project pretty much fully aware of what NFL team he is going to play for in Cincinnati, as he will undoubtedly be the first pick taken Thursday night. Herein is where my problem lies with those who have said that Burrow will be a slam-dunk pick and one of the greats. Cincinnati has long been, and continues to be, a poorly run football team, and the cupboard, outside of an aging AJ Green, is going to be bare for Burrow when he gets there, along with only a second-year coach in Zac Taylor. I think that while Burrow has a lot of gifts, he just isn't physically big, fast or have a strong enough arm to put a team on his shoulders.
The lack of consistent performance is also a little worrisome to me, and I still can't totally get past the fact that he was pedestrian at best until an NFL-ready offensive guru got there and he got to play behind the best offensive line in college football while throwing to Sunday-caliber receivers.
I think that he could be extraordinary as a ball distributor, using his excellent smarts and field vision to run a terrific NFL offense, but that he will need a good group of supporting talent around him in order to perform at a high level.
There have been 8 QBs drafted first overall since 2009, and only three have won a playoff game. Of those 3, 2 were all-time physical freaks (Andrew Luck and Cam Newton) drafted to two historically competitive organizations (Colts: See Manning, Peyton; Panthers: reached a Super Bowl with Jake Delhomme) and the other was Jared Goff, who was flanked by a wunderkind coach in Sean McVay and the best running back in football at the time in Todd Gurley. Burrow will be afforded none of those luxuries in Cincinnati, and I just don't see the path to him becoming an all-time great there.
I could be wrong, though. As financial wizards will tell you, the best indicator of future success is previous success, and no one has had more previous success than Burrow did last season, and never has there been a prospect's draft stock that is more arrow up than his. There are plenty of intangibles to like, too, as his blend of confidence with a bit of arrogance could win over a locker room in a hurry. His origin story of adversity followed by carrying a college program to new heights is right in line with that of Russell Wilson and Deshaun Watson; LSU was an also-ran before he got there. Perhaps he could do the same to the Bengals.
Best-Case NFL Comparison: Peyton Manning .75
Burrow breaks the ceiling for recent no. 1 picks and uses his incredible savvy, touch and feel for the game to become an elite quarterback pre-snap and, like in college, is impossible to blitz: a franchise cornerstone in Cincinnati for years to come.
Worst-Case NFL Comparison: Andy Dalton
Burrow's good but not great physical talents are exposed while trying to carry a bad organization, and while he shows flashes of Pro Bowl level play with high-level supporting help, he becomes a middling player unable to truly break through due to his inability to transform an offense.