Logan Sella
2020 QB Breakdown Blog, Pt. 2
Updated: Apr 23, 2020
Welcome back to the QB Breakdown blog! Another week means another 2020 Draft quarterback to study, and this week's prospect is one that has many enamored with his size, athleticism and potential, even though he is the product of a small school. You can read my first edition of this blog from earlier in the week here, featuring former Oklahoma and Alabama signal caller Jalen Hurts.
Let's get to it:
QB Jordan Love, Utah State, Jr. 6'4", 225 lbs.
Love is a quarterback prospect that came on to NFL radars during his 2018 sophomore season at Utah State, leading the Aggies to a 11-2 campaign, punctuated by a 39-point win in the New Mexico Bowl vs North Texas, earning Utah State a ranking in the final Top 25 for only the second time since 1961. Going 7-1 in Mountain West play, Love's only loss in league play in 2018 was to perennial MWC power and 2019 conference champion Boise State.
2019 was a year of major transition for Love and the Utah State program, as head coach Matt Wells departed to Texas Tech, as well as his entire offensive line minus his left tackle transferring or graduating before the season. Wells was replaced by former defensive line coach at Utah Gary Andersen, who previously coached the Aggies from 2009-2012. This led to a step back record-wise, as Utah State finished 7-5 on the season. Still, with prototypical size and a strong frame as well as a rocket-launcher right arm, Love is projected by some as high as a top-10 pick, and has had many in NFL licking their chops about his potential.
By The Numbers
It is not hard to see how Love got onto NFL radars after his sophomore season, at least statistically. In 2018, Love finished with 32 touchdowns to only 6 interceptions, just shy of 3,600 yards and a 159.9 passer rating, completing 64% of his throws. This included 7 games in which he led the offense to more than 50 points, not the least of which was 73 (!!) against Tennessee Tech.
By a lot of measures, Love and co. tore up the Mountain West in 2018, leading the conference in yards per attempt, adjusted yards per attempt (which factors interceptions and touchdowns) and yards per play, finishing in the top 10 among FBS QBs in adjusted YPA and yards per play.
Perhaps even adding to the impressiveness of the season was that Love was shut out in the touchdown column in the opening game of the season against Michigan State (to a defense that finished 3rd by Football Power Index measures), meaning he effectively threw for 32 touchdowns and 4 interceptions (the Spartans picked him off twice) the rest of the way. The only real down performance came in a 24-16 win on the road against Wyoming, where Love was held to 53 yards on 42% passing. This was definitely the outlier of the year though, as Love sandwiched that game with 2 that he threw for 9 touchdowns and 780 yards.
It is possible that if Love put together another year like his sophomore season, that he would be in the conversation to be a top-five pick, but it is hard to say that he did a whole lot to help his draft stock his junior year.
Love finished the season with 20 touchdowns and 17 interceptions, good for 3,402 yards and a 129.1 passer rating. He regressed in pretty much every major passing category, finishing with a lower yards per attempt, adjusted yards per attempt, as well as completion percentage. You can see the classic passing numbers here side-by-side for some context, courtesy of College Football Reference:
However, it would be shortsighted to place Utah State's decline from 2018 squarely on Love's shoulders. As stated earlier, only the left tackle from Love's 2018 offensive line returned, while the other 4 spots on the offensive line were filled by redshirt freshmen, culminating in double the sack total from 2018 to 2019 (8 to 16). This led to a major decline in the rushing attack as well, as the Aggies scored 21 fewer touchdowns on the ground than the previous season. The defense was also not what it was in 2018, either, going from a top 25 unit according to FPI to 60th in 2019.
To many, the biggest red flag for Love can be surmised by a single number: 17, as in interceptions from last season. 17 was good for the NCAA lead (if you could call it that) among all FBS passers last season. For some context, his 17 picks on 473 attempts is a 3.59% interception rate would have been worse than Philip Rivers, who was second in the NFL in interceptions last season, and matches the career clip of passers like Brian Griese, Dan Majkowski, and Jameis Winston, not exactly prolific NFL quarterback company.
It is hard to find a quarterback that was taken highly in the draft that had such an alarmingly high number of interceptions in their last season before declaring for the draft. Sam Darnold was one, throwing 13 picks in his last year at USC. Ryan Tannehill was another, throwing 15 in his senior year at Texas A&M (although on much more volume (531 attempts) than Darnold or Love), as well as fellow Aggie (Texas A&M, not Utah State) Johnny Manziel, who had 13 in his redshirt sophomore season at College Station. While all first-round picks, I doubt that Love would find himself flattered to be put in this group of quarterbacks when projecting his NFL career.
I would argue that, while probably a victim of the coaching turnover at Utah State, besides the interceptions, that the regression in nearly all of the other categories is more damning than just the INTs. Almost every young quarterback that has popped in the NFL has shown significant improvement as their college career went along, usually to the tone of a prolific passing season. Deshaun Watson threw for 6 more touchdowns at Clemson in his final year on 11 fewer passing attempts on the season. Patrick Mahomes improved his passer rating by 10 points and cut his interception total by a third. Jared Goff, while the jury is still out on him, improved in every passing category and led his team to a bowl win in his junior year at Cal. I would definitely have a little bit of caution when reading into his statistics if I were considering taking him early in the draft.
Though I mentioned Winston earlier, somewhat as a negative comparison point, he actually is kind of similar in Love in their regression (at least statistically) in their last college seasons. Take a look at Winston's numbers from his 2013 Heisman-winning season where he lit the world on fire, and then his 2014 year, his last before turning pro:
Winston, like Love, was equipped with much better supporting talent in their second-to-last college seasons, as 7 players from the National Championship-winning left to go to the NFL Draft, including his best receiver (Kelvin Benjamin), running back (DeVonta Freeman) and center of his offensive line (Bryan Stork). As a result, Winston was forced to throw it 48 more times in one fewer game the next season, and due to lesser blocking, receiving and rushing around him, Winston's productivity and statistical output dropped.
While Love never had the ceiling of Winston, as Winston's 2013 season is still underrated among the all-time greats, you can see that they fit a similar profile statistically, with some similar context.
To make a complete evaluation for a quarterback just off of their statistics is a fool's errand, as there have been more than a few that have broken the record books on Saturdays that had no shot of making it in the NFL. But I think that they do tell at least a little bit of a story here, as we are able to see that his high interception clip and his low completion percentage (only 61.2% for his career at Utah State) are common with quarterbacks that have had a high propensity to turn the ball over and be inaccurate at the pro level. To say that these are deal-breakers would be a little unfair, as players like Sam Darnold, Winston and Ryan Tannehill have all shown flashes of high-level play in the NFL, but I think that they should certainly be chewed on by pro teams, as interceptions and inaccuracy have been proven hard to fix in the NFL.
The Truth is in The Tape
I watched film from both Love's 2018 and 2019 seasons, with some special attention to some of the higher profile games, trips to East Lansing and Baton Rouge to play Michigan State and LSU among them, as well as the two bowl games. This also included two games against Boise State, who I would consider the class of the Mountain West conference and BYU, who has had a nice run in the past few years, and games against Nevada, Wake Forest and Colorado State. The following GIFs are all courtesy of different videos you can find on YouTube, if you would like to see some more for yourself.
Here's what I saw:
Right away, I can see how some are taken aback by some of the talent that Love has. He certainly looks the part of 'NFL QB'; long and wiry, good feet, good body. He also will not be short on arm strength; the ball really pops out of his hand, and he can do it pretty effortlessly with his feet set, and sometimes even when they aren't. Check out this touchdown against Kent State for a little taste:
I said in the first blog that Jalen Hurts was hard to evaluate because of the creativity and the talent on offense that he had to work with at Oklahoma. The offense at Utah State was a polar opposite. Lapses in protection, lack of inventiveness in play-calling, absence of speed or explosiveness on the outside, you name it. There was nothing fun about watching Aggie film, especially in 2019, where you could see that there was a definite dearth of talent.
A positive that I saw from this lack of imagination in the play-calling was a high amount of quick passes, where Love got the ball out of his hand to try and get short completions. While it is hard to give him too much credit for making gimmes, he actually became pretty advanced in this area by his final season, looking off defenders in the middle of the field before delivering nice balls on in-breaking routes. Watch him do it here vs LSU on three straight plays. Again, not 'wow' throws by any means, but something that good pro quarterbacks can do consistently.
Speaking of 'wow' throws though, he does have more than a few of those too. According to Pro Football Focus and their grading of all draft prospects, Love made the 3rd-most 'big-time' throws of all college passers last season, and he can do it from a variety of platforms and arm angles. Check these out:
If you squint hard enough, you can see why some have even dared to compare Love to *gulp* Patrick Mahomes, as he has the arm talent to deliver the ball with velocity and (some) accuracy from a ton of positions.
As I said earlier, the knock on Love to many has been the interceptions. There have been some that haven't been totally on himself, as there were 3 that came on hail mary attempts at the end of games/halves, as well as some that were poor drops on the part of his receivers. That is not to say that Love has not been at fault for his share of them, though.
He is guilty, as many quarterbacks with big arms are, of thinking that he can make throws that aren't there, but I didn't think it was a chronic habit of his. Most of his interceptions really were just a product of poor decision-making and not seeing the field. Against BYU, he hit a linebacker right in the facemask twice in the same quarter:
I thought this interception against Nevada was a good example, as you can see on the reverse angle, especially, that he for one, tries to put the ball into a really tight window on the sideline, and that two, he doesn't see or anticipate the corner who made the play coming off of his original man to pick it off. Good players just don't make those kinds of decisions.
I think that the best throws that I saw Love make were long balls down the middle of the field, post routes over the top or between two-safety looks. Love sometimes struggled with accuracy on the perimeter, sometimes due to trying to create too much, but I really liked how he threw the ball in the middle of the field. These were a few of my favorites.
With his arm strength, I think that this is something he can do well at the next level.
Second, perhaps due to a receiving corps that didn't create consistent separation down the field, Love became really good at throwing back-shoulder go routes, fitting balls into tight areas where only his receiver could make the play. Here are two against Kent State:
While he was very good at this, it was contrasted by a lack of completions on in-the-bucket type throws, dropping it in over the defender. I think you could chalk some of it up to inaccuracy and an absence of a receiver that could consistently get behind people, but I also think that he fell in love with the back-shoulder throw when trying to go over the top was the better option. I thought this was a good example, as this play could have been made with a throw that led the receiver down the field:
I will preface this by saying that you could see the lack of talent, experience and cohesiveness in the offensive line last year at Utah State. But the part of Love's game that I am most concerned with is the lack of pocket awareness, internal clock and feel for the rush on a consistent basis. While not extraordinarily elusive, Love has the athleticism to evade defenders and make plays out of the pocket, but far too often he holds the ball too long and cannot feel when to get rid of the ball quickly or when to use his elusiveness versus standing in to throw. He very rarely threw the ball away. Watch how oblivious he is to the rush here, never seeing the free defender, leading to an interception.
You can see the same thing in a game against BYU, standing and holding on to the ball, leading to a strip.
This happens in a game against Nevada also, as before halftime he opts to hold onto the ball for no reason, leading to another strip, and again taking a sack.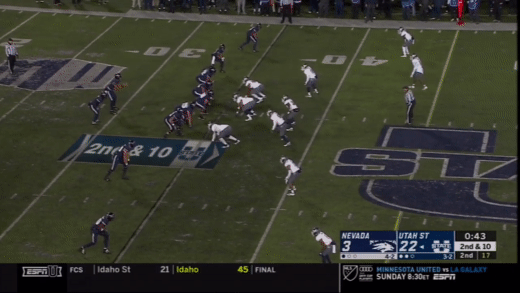 While this could be explained by a lack of protection and a lack of receivers that can get open, trying to do too much, it happens way too often and has been a big factor in the high number of negative plays that Love has made.
Projection and NFL Fit
Watching tape, you can see that there is some serious potential with Love, as he has the size, arm and ability to deliver in and out of the pocket and on the move to be a really good NFL player. He can do things that a lot of guys, even solid NFL starters right now, cannot.
But I am seriously concerned with the decision-making, the interceptions and the inconsistency in feeling the rush and seeing the field. Love makes bad, bad errors way too often if he is going to be a successful pro, and his regression in his last year is concerning, even with a lesser supporting cast. According to Pro Football Focus, Love's passer rating when given a clean pocket dropped from 122.6 his sophomore year down to 91.0 in his final season, 81st among FBS passers. Time will tell, and there is a lot of raw horsepower, but improvement will need to be made in order for Love to hit big.
High-End Comparison- Matt Stafford
Love finds a team and coaching staff that can coach him up in the nuance areas where he struggled in college and allows him to unleash his arm talent to hurt teams at all areas of the field at a Pro Bowl level.
Low-End Comparison- Jameis Winston/DeShone Kizer
I did a lot to compare Love to Winston earlier, and Kizer matches a similar statistical profile, coming out after his junior year even though he regressed in passer rating, yards per attempt and completion rate. This was a sign of things to come, as Kizer led the league with 22 interceptions in his lone season as a starter. Love never figures out how to read NFL defenses and his poor decision-making lends itself to an underwhelming career.