Logan Sella
Updated: Apr 23, 2020
Welcome back to the QB Breakdown Blog! This week marks the third installment of the series, centered around the 2020 NFL Draft quarterback class. As is now custom, we are releasing a post about 5 quarterbacks in 5 weeks, leading right up to the NFL Draft, slotted for April 23rd. You can read the first two, centered around Oklahoma star Jalen Hurts and small-school sleeper Jordan Love here and here.
Without further ado, this week's breakdown features a 3-year starter who finished his time on campus as a Rose Bowl and Pac-12 Conference champion, bringing the Oregon Ducks their first crown since 2014:
Justin Herbert, Sr. Oregon. 6'6", 227 lbs.
Herbert is a quarterback that has just about seen it all as a quarterback in college, going from missing a bowl game in his first season, then to a new coach in his sophomore season, then another head coach in his final two years, finishing with 2 bowl wins and a conference championship. Herbert took over as the quarterback of the Ducks just before midway of his freshman season of 2016 at Eugene, where he was first put into action against Washington State. He finished the season 2-6 in his eight appearances, which marked the end of the tenure of Mark Helfrich as the Ducks' head coach. His sophomore year was abridged after suffering a broken collarbone in his left shoulder in a game against Cal, before returning 3 games later, adding 2 more wins and a bowl appearance to end a 7-5 season (Oregon was 6-2 in games he started in 2017). Another coaching regime took place, with Mario Cristobal at the helm beginning with 2018. Herbert finally got to play a full season his junior year, leading the Ducks back to another bowl game and a 9-4 record. He saved the best for last however, as his senior year was the first at Oregon to include a conference championship and trip to the Rose Bowl since 2014, and a 12-2 record that got the Ducks to within sniffing distance of the College Football Playoff before a loss to Arizona State took them out of the running.
To many evaluators, Justin is a prospect that has prodigious size and athletic ability, someone with the physical attributes to really get excited about, including top-notch arm strength, but will need some refinement in his game and some improved accuracy in order to be a successful pro.
By the Numbers
Last week, I spoke at length about how Jordan Love's regression from his sophomore to his junior season was a reason for concern, as in most cases, quarterbacks that succeed in the NFL make strides of improvement as they gain more experience in college football. Herbert is a prime example, as he improved every passing stat across the board from 2018 to 2019, including passer rating, yards per attempt, interceptions and interception rate, and completion percentage. Here is a look at his classic passing numbers for some context courtesy of College Football Reference:
I suppose some might be quick to point out that Herbert was on pace to have his best year in his sophomore season, setting high marks in yards per attempt, passer rating and completion percentage, to which I would be quick to point out that he played in the first 6 games of the season before getting hurt, which included the non-conference schedule of Southern Utah, Nebraska and Wyoming, not exactly a powerhouse group.
Herbert finished 2nd in the Pac-12 in a number of passing categories, including pass attempts, completions, touchdowns, total plays, total yards responsible for and touchdowns responsible for, edged out by only Anthony Gordon in most of them, which can be attributed to the Air Raid system of the Washington State quarterback.
Something that caught my attention when doing research on Herbert was the lack of premier talent surrounding him, even in his final 2 years under Cristobal where the team had a lot of success. Taking a look at the Pac-12 statistical leaderboards for 2019, you will find no offensive player that lead the league in any category, except for kicker Camden Lewis, who led the conference in both extra points attempted and made (That might be an underrated stat, honestly. The name of the game is to score, right?). Even going back to 2018, the only real standout among Duck backs and receivers was Dillon Mitchell, who led the league in receiving yards.
Really, Oregon was unspectacular in a number of offensive metrics in 2019 on the ground and in protection of the quarterback, ranking 49th among FBS teams in rushing yards per game, 37th in rushing yards per attempt, and 58th in sack percentage, all solid numbers, but by no means blowing anybody away.
This continued in previous Aprils, too, as going back to Herbert's freshman season, there was not a single Oregon Duck drafted in the 2017 NFL Draft. In the last 2 drafts, 6 Ducks have been drafted, but none in the first two rounds. This has included only 3 offensive players, most notably Royce Freeman to Denver in the 3rd round, as well as tackle Tyrell Crosby in the 5th round and Mitchell, who was a 7th round pick by the Minnesota Vikings. This year, the only notable Oregon draft prospect besides Herbert is tackle Calvin Throckmorton, projected by many as an early second-round pick. While regularly producing draft picks is nothing to sniff at, the talent level at Oregon, at least offensively, pales in comparison to the two passers projected by many to go ahead of Herbert in Joe Burrow and Tua Tagovailoa, who played with cavalry units of pro players, on the line, at running back and receiver. I am sure that this is something that evaluators will make note of, and I will account for watching film.
It was kind of hard to find statistical comparisons for college quarterbacks that have become successful NFL quarterbacks, mostly because Herbert was sort of in a gray area between volume and efficiency. There were a lot of QBs who had much more volume than him, making those comparisons moot (Goff, Watson, Mahomes), and then those who threw it much less but did so at a more accurate clip (Luck, Wilson, Stafford), but not too many that did so in a combination like Herbert. The two that I found that had similar statistical profiles, as well as physical traits that matched up with each other were Mitch Trubisky and Dak Prescott, both signal callers who, like Herbert, whose size, strength and athleticism was liked by scouts (Trubisky more than Prescott, at least coming out of college), but had concerns about translation the pro level. Take a look at the final college season of all 3 (Dak, Trubisky, then Herbert), again courtesy of College Football Reference:
While there are differences in all of them, there are similarities as far as completion percentage, yards and adjusted yards per attempt, passer rating and passing volume. While stats and their translation to the NFL have always been scattershot, I think that these profiles make for interesting reading due to the contrast in the careers of Prescott and Trubisky so far and how they can relate to Herbert, who fits a similar physical profile. Prescott, even though a lower-regarded prospect, has become a high-quality NFL starter who has progressed in every season and is on the verge of making 130 million dollars, while Trubisky has yet to refine his game, mainly accuracy, and has put a ceiling on his athletic skillset. While it is impossible to say which way Herbert will go, I think that these two current pros could be recognized as an interesting precedent for how Herbert might project.
The Truth is in The Tape
Some evaluators have said that a knock on Herbert's game is a lack of progression from his first years as a starter at Eugene to the end of his career, sometimes making freshman mistakes as a junior and senior. I took a look for myself, watching film from all 4 seasons that Herbert played in with an emphasis on his last 2 seasons, as well as his tape from the recent Senior Bowl in Mobile, Alabama, where he received mostly positive reviews. Some high-profile games included matchups with USC, Auburn and Wisconsin in the Rose Bowl his senior year.
Here's what stood out:
I thought Herbert on tape was a player that showed traits on film that any NFL GM would love to have on their team, but that his overall college play and production gave me some serious concerns about how he might project to the NFL.
To start with the good, Herbert can throw a really nice ball when his feet are set. He will have top-end NFL arm strength from day one, and the weight of his ball, from both a velocity and spin rate standpoint, jump off the screen on a number of throws. His ball really 'finishes' in the last few yards, like a pitcher's fastball that jumps over hitters' bats. Here are a few, to get an idea.
I think that, to continue with the pitching analogy, that Herbert's fastball was his best pitch. He had some touch, but not a tremendous amount, and there wasn't really much as far as back shoulder throws or throwing people open, either. I can see how some aren't that sold on his accuracy, but I didn't think that there were an alarming amount of misses.
I thought Herbert looked at his best when driving the ball to the deeper intermediate areas of the field, usually outside the sidelines on deep outs or crossing routes, a la Dak Prescott or Matt Ryan with more zip. He has the arm strength to really put it on a rope out there, and was good at throwing over underneath zone defenders. Here is one of my favorites from his game against Washington his senior year:
While Herbert posted a 4.71 time in the 40-yard dash at this year's NFL Combine in Indianapolis, favorable to other big, athletic NFL starters like Josh Allen and Carson Wentz (4.75 and 4.77, respectively), I am not all that sold on Herbert's athleticism as a runner, due to his size and length at 6'6". It is hard to be agile at that height, and while Herbert has good top-end speed, I didn't see the acceleration burst to get away from rushers consistently.
To contrast for his size making him unable to play compact, though, Herbert has very nice pocket movement skills. Specifically, he makes a habit of stepping up and through into the pocket to avoid the pass rush, as opposed to running backward and around to get some space. He has the tools to be able to get outside occasionally, but I think that he will have to be more of a pure pocket passer at the professional level, and his willingness to work inside the pocket is a good sign. Here are two really good plays from against Washington State his junior year, especially the second one.
The more I watched Herbert, the more I was impressed with his ability to deliver the ball under pressure, sometimes when taking big licks from free rushers. His size and athleticism here are big pluses, as he will be hard to bring down, and even when someone does, he's just too big to knock around. We will talk about comparisons more later, but with a little more bulk, I think Herbert could do a decent Ben Roethlisberger impersonation. Here are a few really nice plays while staring down the gun barrel:
For some reason, Herbert made a lot more good throws on the move in his junior season than his senior season. One constant I could find was that Herbert in his senior season often opted to scramble and then try and set his feet before throwing, as opposed to just throwing on the run, which is a good idea in theory, as having set feet usually leads to better throws, but it seemed to cause him to be inaccurate on some throws. I think that resetting after scrambling is something that a lot of quarterbacks don't do enough, but it just didn't work well for Herbert.
My biggest concern with Herbert is that, while the Oregon coaching staff did an excellent job of masking it with a lot of misdirection, screen passes and fake screens, all of which allowed Herbert to pump fake one way and then throw another or throw over the top of defenses, he stared down where he was going with the football far too often. Herbert did almost no manipulation of defenses with his eyes, usually only coming off of his first read when pulling the ball down to try and create on a broken play. Here is a good example of him doing it here against Cal for an interception, where along with the ball coming out a little late, his stare at his target creates a ton of traffic around the ball. Count all of the white helmets in the window when the ball gets intercepted:
Here is a good example against Utah in the Pac-12 championship from last fall. The pass only results in an incompletion, but you can see Herbert look (and look, and look) at his target the whole play, making this a pass that was a heartbeat away from being intercepted.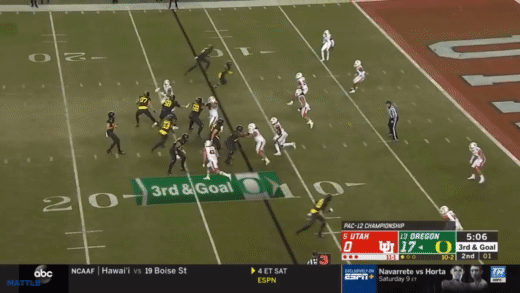 While he has the arm strength to sometimes compensate, NFL defenses will punish play like that, and even if on plays where it does not result in interceptions, his lack of eye discipline will make for tighter windows down the field and create many difficult catches for his receivers due to the head starts that Herbert gives them. A play like this one is going to result in an interception or a receiver in the medical tent in the NFL:
While it is something that can be fixed, it is a trait that separates the good from great at the pro level, and I was very alarmed at the lack of deception and manipulation of defenses in Herbert's game.
Projection & NFL Fit
I think that many evaluators are undervaluing how QB-friendly the offense Herbert ran in college. At Eugene, Herbert was often a dink-and-dunker, getting the ball out of his hands quickly on screens and RPO passes. His snap-to-throw time of 2.48 was the quickest among all draft-eligible passers, according to Pro Football Focus, and while there wasn't marquee receiver talent that separated down the field, Oregon's play design and misdirection was top notch, and there was a lot of easy throws from Herbert that were made big plays after the catch. I think that some find this impressive, showing Herbert's ability to play quickly and compactly to go along with his arm strength potential to throw down the field. I lean the other way. I think that it will be hard for Herbert to play that style in the NFL at his size, and could make for a rocky transition from what was a passer-friendly situation with the Ducks.
While I can see the size and the arm talent and some of the athleticism that many evaluators like, I just was not all that sold by Herbert. As I said in the previous paragraph, I think that Herbert was more of a product of a great scheme at Oregon than he is considered. While there was some eye-popping velocity and athleticism, there just wasn't enough skill in his game to win me over. I think that, even though the numbers say to be careful (more on that in a second) that scouts get blown away by height when looking at quarterbacks. Perhaps it is a little hyperbolic, but I think that Herbert would be just another guy if he was 6'2", someone who was a product of a great college system in an offense-oriented conference, rather than a first-round pick.
Herbert had a storybook college career, playing for his childhood team, whom he used to walk to games with his dad, leading the Ducks to a Rose Bowl win in his final game after a few seasons of transition. He has never resided more than 5 miles from Eugene, Oregon. Some have already said that they thought he was too quiet and reserved to be the leader of an NFL franchise. What if he gets drafted to Indianapolis? Or Carolina? While it could just be silly conjecture, I think that there is real merit to those concerns.
There is also no quality starter in the NFL that has been 6'6" or taller (outside of Joe Flacco, if you could call him that). Taking Herbert early in the draft would be banking on breaking a tremendous precedent, as for one reason or another, tall quarterbacks just have not succeeded in the NFL, be it Brock Osweiler, Josh Freeman, Ryan Mallet, and on and on. Still, the quarterback position is changing rapidly in the NFL, as 2 6-foot or shorter quarterbacks were first off the board in the last 2 drafts. Maybe Herbert could be a first of his kind.
Best-case Comparison: Lean Ben Roethlisberger
Herbert uses his rocket-launcher arm, size and ability to throw under pressure to become a lethal bomber downfield that is hard to bring down, and a good coaching staff is able to clean up some of his warts to the tune of a Pro Bowl career.
Worst-case Comparison: Tall QB Failure #1,765
Herbert never pans out, with his size and lack of finesse becoming burdens to heavy for him to carry, and a tough transition from cozy Eugene to the NFL makes for a career that never gets out of third gear